$12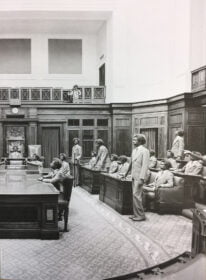 Seeing voices
82 page catalogue with colour plates including: essays, a list of works, artist biographies and images.
Forward by Mardi Nowak and Charlotte Day
Essays by Norie Neumark, Simone Schmidt, Helen Hughes and Francis E. Parker
Full colour images of artworks by Michael Cook, Damiano Bertoli, Alex Martines Roe, Alicia Frankovich, Nina Katchadourian, Clinton Nain, Susan Hiller, Léuli Eshrāghi, Angelica Mesiti, Erik Bunger, Catherine or Kate, Rose Nolan, Sean Dockray, Hannah Donnelly, Fayen d'Evie and Bryan Phillips, WrongSolo, Rosie Isaac.
17 x 23 cm + flaps
Published by Monash University Museum of Art – MUMA and NETS Victoria on the occasion of the exhibition Seeing voices.