Exhibition Development Fund –
Open Now!
Applications Due 5pm, Wednesday 17th May 2023.
NETS Victoria's Exhibition Development Fund (EDF) provides seed funding to research and develop new, curated exhibitions of contemporary visual arts, craft and design.
The program supports innovative exhibitions of high-quality work and accompanying public programs that engage, inspire and develop artists, curators, arts organisations, public galleries and audiences across Victoria (and beyond). Projects may be entirely research and development and/or include a public outcome (such as staging the exhibition in a single venue or online, or producing an exhibition catalogue).
Past recipients include the Australian Centre for Contemporary Art for Between Waves, TarraWarra Museum of Art for Looking Glass: Judy Watson and Yhonnie Scarce, La Trobe Art Institute for One foot on the ground, one foot in the water, and Monash University Museum of Art for Collective Movements.
Chair of NETS Victoria's Artistic Program Advisory Committee, Dr David Sequeira says:
"We are thrilled to open the NETS Victoria Exhibition Development Fund for applications. We are looking for exhibitions, new commissions and exciting artistic projects that showcase the vibrancy and variety that the Australian artistic sector has to offer! With possibilities of touring around Victoria, and beyond, this is a fantastic opportunity for curators."
The program aims to increase representation of First Nations artists and curators, showcase new and diverse voices, build capacity of artists, curators, applicants and audiences, and create new touring models that contribute to environmental sustainability.
All projects must be developed with the intention to tour the exhibition in partnership with NETS Victoria (pending confirmation of additional tour funding and future program priorities). A NETS Victoria tour will help build your profile and professional network in galleries and communities across Victoria (and beyond), reach a wider audience, and capitalise on your investment in the project.
Applications between $5,000 and $40,000 will be considered (from a total funding pool of $40,000). Projects requesting over $10,000 must have a public outcome in Victoria.
The EDF is awarded biennially and is open to independent curators and incorporated not-for-profit arts organisations in Australia (including Local Councils, public galleries, festivals and other arts organisations). Independent artists and State-owned Government agencies are not eligible to apply.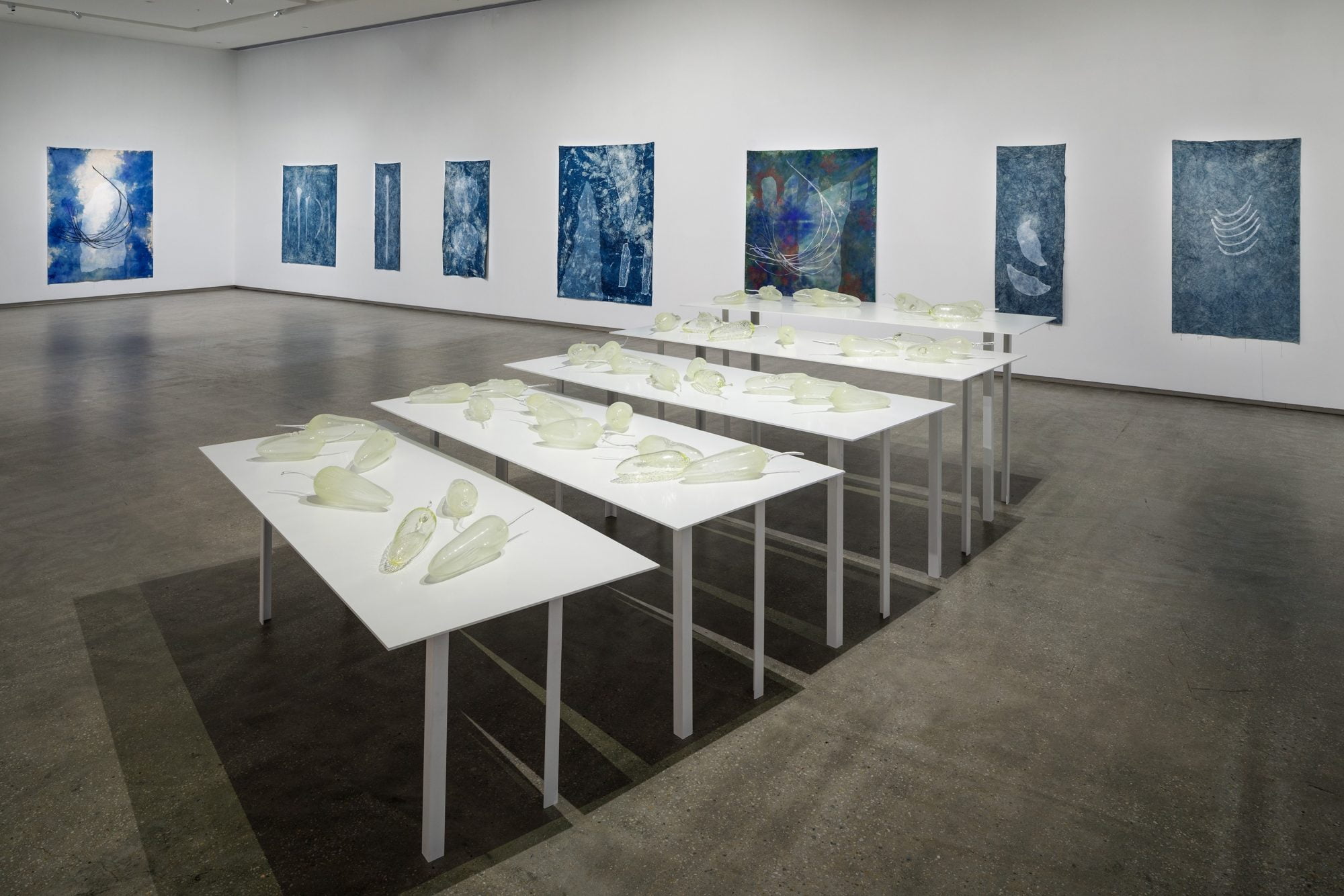 Above: Installation view, 'Looking Glass: Judy Watson and Yhonnie Scarce', TarraWarra Museum of Art. Photo. Andrew-Curtis. 2020 EDF Recipient.
How to Apply
Applications are now open for activities taking place between 1 July 2023 and 30 June 2025.
Applicants must read the EDF Guidelines (PDF or Word) and EDF Frequently Asked Questions (PDF or Word) before submission.
Applications must include:
Support material (in a single combined PDF document):
Applications must be emailed to info@netsvictoria.org no later than 5pm, Wednesday 17th of May 2023.
NETS Victoria's Exhibition Development Fund is supported by the Victorian Government through Creative Victoria.
If you have a question that isn't answered in the EDF Frequently Asked Questions, please contact
Claire Watson, Director
info@netsvictoria.org
03 8620 2007
With the support of the NETS Victoria Exhibition Development Fund, a kernel of an idea was brought to fruition, taking the form of a series of new artistic commissions and recent works contextualised by new curatorial research and writing.
Anna Briers, Co-curator: Craftivism – Dissident Objects and Subversive Forms. Previous EDF recipient: Shepparton Art Museum
Working with NETS Victoria has been a wonderful experience, through all stages of the process. We highly value the professionalism, passion and approach of staff at the organisation and look forward to further project collaboration in the future.
Travis Curtin, Curator: One foot on the ground, one foot in the water. Currently on tour around Australia