$12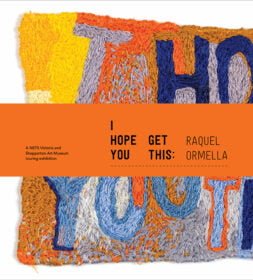 Raquel Ormella: I hope you get this
75 page catalogue with colour plates including: essays, a list of works, artist biographies and images.
Forward by Mardi Nowak and a welcome by Kim O'Keeffe
Essays by Kyla McFarlane, Rebecca Coates and Reuben Keehan
Full colour images all of artworks included in the exhibition
20 x 22 cm + dust jacket
Published by Shepparton Art Museum and NETS Victoria on the occasion of the exhibition Raquel Ormella: I hope you get this.
This publication was supported by the Gordon Darling Foundation.