I hope you get this—

Raquel Ormella
Raquel Ormella, I'm worried this will become a slogan (Xanana Gusmao) (detail) 1999-2009
 double-sided banner, sewn wool and felt, 128 x 202 cm
 Courtesy the artist and Milani Gallery, Brisbane, © the artist
This exhibition brings together new and recent work by one of Australia's leading contemporary artists, Raquel Ormella.
I hope you get this: Raquel Ormella includes work from a wide variety of media, and particularly draws on her experimental textile works. The exhibition explores key themes that Ormella has consistently focused on: social and environmental activism; human and animal relationships; nationalism and national identity.
These recurrent interests are brought together by a consistent engagement with the artist's voice. Rather than being the site of authority, Ormella's voice simultaneously expresses aspiration for connection, while remaining uncertain about whether the communication will work.
The exhibition is accompanied by a fully illustrated catalogue featuring a curatorial introduction commissioned texts by Kyla McFarlane and Reuben Keehan
A NETS Victoria and Shepparton Art Museum touring exhibition, curated by Rebecca Coates and Anna Briers.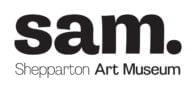 This project has been assisted by the Australian Government's Visions of Australia program as well as receiving catalogue funding through the Gordon Darling Foundation, and development assistance from NETS Victoria's Exhibition Development Fund, supported by the Victorian Government through Creative Victoria.



---
Learning Guides