CROSSING COUNTRY WHILE STANDING STILL—

OUR BELONGINGS
This land is my life. This land is me and I am the land.1
– Aunty Iris Lovett-Gardiner
On an average day in my work in collections at Melbourne Museum I travel across the state of Victoria. I weave from the Wurundjeri Country of Healesville, to my own Yorta Yorta Country of Echuca. I cross rivers and mountains to the high Country of the Taungurung and cross the bay to the beaches of Wathaurong/Waddawurrung Country. I traverse the peninsular of Boonwurrung and Bunurong Country and sit amongst the rolling hills of Dja Dja Wurrung lands. It is through the portals of the cultural materials of the old people that I travel.
When we consider Country through a lived experience of being blak2 we are not just talking about the literal ground underfoot. Our world view of Country is expansive and made up of multiple elements that are physical, spiritual and cultural. As Aunty Iris Lovett-Gardiner so beautifully stated, this land is me, I am the land. For First Peoples, Country is everywhere, it is in our blood, it carries our spirit and grounds us both to history and to our futures. Country refers to the birthright all Aboriginal people have, we all have a language group and family group we connect to in some form which place us to Country. When mob ask, 'where you from?', it is our way of connecting people to place and kinship. I am Yorta Yorta, my family lines are the James and Cooper families, this places me to that Country, to Shepparton where I grew up and to Barmah, Echuca and Cummergunja mission where my family once lived. It places me to the Dungala River, to the ancient red gums and the brown soil of the bush, to the water ways and middens. It places me to the townships and churches and butchers and factories built on Country my family have attended and worked in for over one hundred years, it places me to where my father and grannies and great grannies are laid to rest, and to paraphrase Stacie Piper, Wurundjeri and Dja Dja Wurrung woman and curator of WILAM BIIK, 'the spirit of ourselves is found in the spirit of Country'. Country is everywhere, you do not have to 'go to Country' that is, go regional, to be on someone's Country. I am a guest on Kulin lands, I live on Wurundjeri Country in what we now know as Brunswick and I often walk along the Merri Creek, where I imagine it clear without the debris of colonisation, where the golf course fades and the bush regrows. I look for scar trees and close my eyes, inhaling the sweet damp eucalypt, a smell that has not changed with time.
The objects that we have now in our keeping places and in the custodianship of museums are intrinsically linked to our identity and cultural practices and they are tangible forms of Country. These objects not only embody Country but are literally made from it, the stone tools of greenstone and ochre, to baskets and head adornments woven from grasses. There are masterfully crafted weapons and tools made from wood, emu feather skirts and river reed necklaces, and there are objects that tell a story of change and transition, including some of the earliest figurative artworks that signify the transition of colonisation and act as both archives of resistance and cultural repositories of ceremony and knowledge of land.
I have listened to Wurundjeri woman, artist and language expert Mandy Nicholson speak of the many layers of her Country before. The six layers she speaks about make so much sense and connected to what I, and many other First Peoples, think about when we consider Country that include our waters, skies and layers of earth. The following observations are important teachings and a generous gift from Mandy and her people as it extends to all of us in the way we must respect Country:
As a Traditional Custodian of the Greater Melbourne area, I do not see the buildings or the concrete: I see what is beneath, in and above. The six layers of Wurundjeri Country include the Biik-ut (Below Country) where we get our ochre from to decorate our bodies for ceremony and dance. The second layer is Biik-dui (On Country) where we walk, dance and conduct ceremony, this layer we can physically see but we can also feel its spirituality. The third layer is Baanj Biik (Water Country), which sustains all life, all the rivers, creeks, raindrops, mist and dew are included in this layer. Water forms part of a Welcome Ceremony, as guests are invited to drink water from Country out of a wooden bowl called a tarnuk, to symbolise that resources are safe while the visitor is on Country. The fourth layer is Murnmut Biik (Wind Country), this layer is important as it allows the smoke from Welcoming fires, and the language you speak and sing, to transcend up to Bunjil. The wind allows your ngulu (Voice), and the healing properties found in the eucalyptus oil released when smoking them, to embed into all layers. The fifth layer is Wurru wurru Biik (Sky Country), this is where the physical form of our Spirit Protectors and Creator can be seen. Our Creator is Bunjil the Eagle and Waa the Raven, his helper. The final sixth layer is Tharangalk Biik (Forest Country above the clouds) and is Bunjil's home.3
This Wurundjeri way of thinking is an important Indigenous epistemological approach to caring for Country and understanding the land. Through this lens we can consider these Ancestral belongings in the exhibition, all of which were made of materials and speak to the themes of the many layers of Country.
Stone tools were, and continue to be, an important object for First Peoples. In Victoria there are significant quarries from which, for thousands of generations, rare greenstone was sourced and ground into axe heads that were highly prized and traded. As Uncle Bill Nicholson Jnr, a Wurundjeri Traditional Owner of Wil-im-ee Moor-ring (Mount William quarry) explains:
Wil-im-ee Moor-ring, home of the axe or home of the greenstone, is where greenstone juts out of the top of the mountain, the old people used to super heat it with large fires and then pour water on it which would crack it, then you would get big branches and wedge in that crack to break open the rock. The rock would then collapse to the ground and probably break a little bit then further hitting on the rock would break it down into hand size blanks. Those axes were traded blunt and they were a very valuable item, I consider them similar to gold of today where gold is very valuable because its rare, in traditional society greenstone was very valuable because it was rare … It's the strongest stone in Australia.4
The importance of this site and the value of these axes is alluded to in the following observations of the quarry recorded by the first curator for Museums Victoria, William Blandowski, in 1855: 'The celebrated spot which supplies the natives with stone (phonolite) for their tomahawks, and of which I had been informed by the tribes 400 miles distant'.5 This comment alludes to the vast trading route of the Wurundjeri peoples and, although attributed to Howqua, Yea and Colbinabbin, the stone tools exhibited in WILAM BIIK may have been traded up from Wurundjeri Country from Wil-im-ee Moor-ring.
Ochre mines are also present across the state and have an important role in trade and ceremony. They are sacred to Country and the ochres, commonly found in white, red and yellow, were traditionally used in a wide variety of ways: on cultural materials; on the body for dancing; and in different ceremonies, initiation and mortuary practices which continue in various ways today. The red ochre block featured in the exhibition was taken from the Goulburn Valley region in the nineteenth century. In the late 1830s through to the early 1840s, there are documents of large ceremonies of dancing and singing between the clans of the Goulburn region and the Kulin peoples, where men and women would be dressed for ceremony and chant and create sound with clap sticks and possum skin drums painted in vibrant ochre.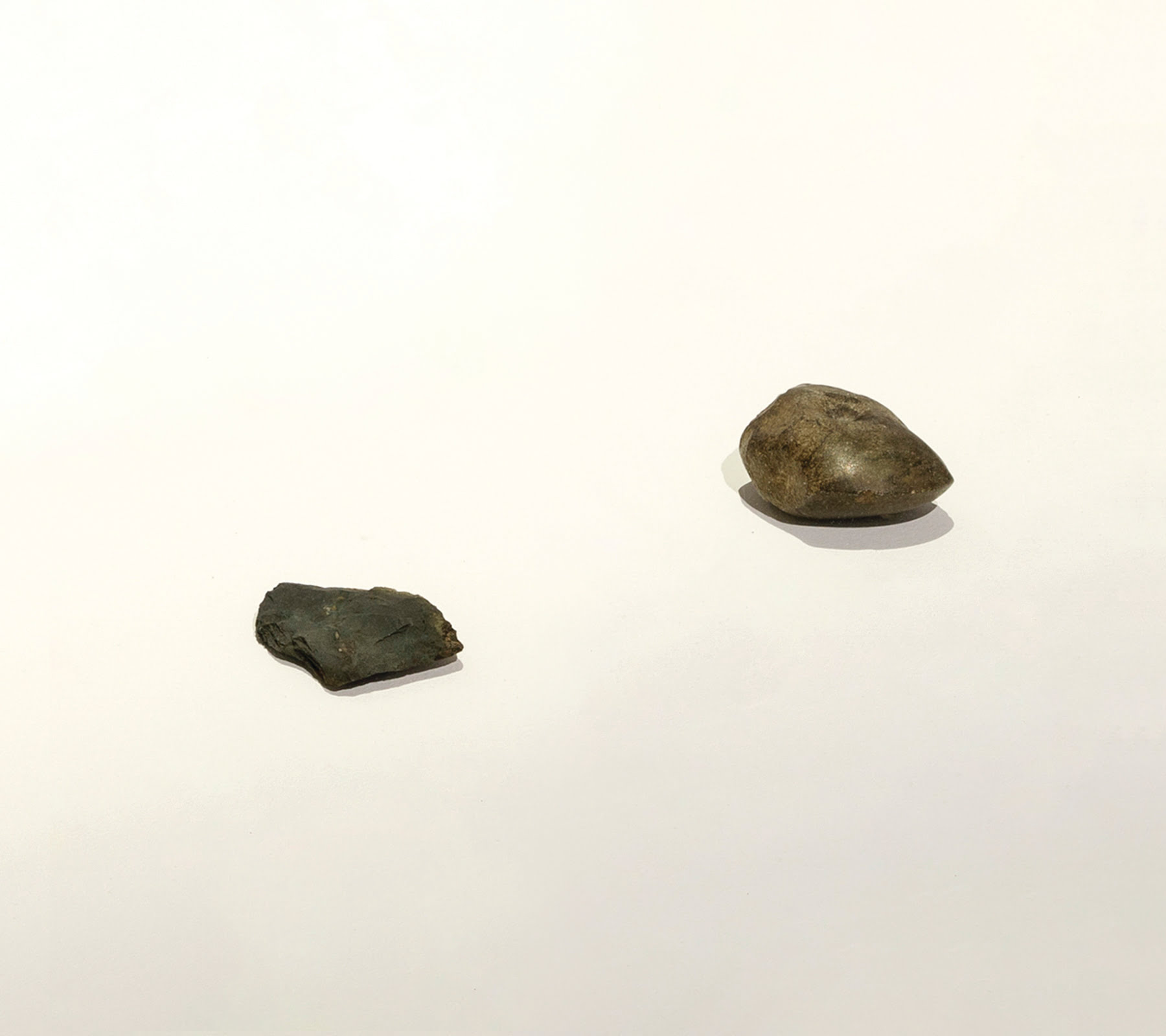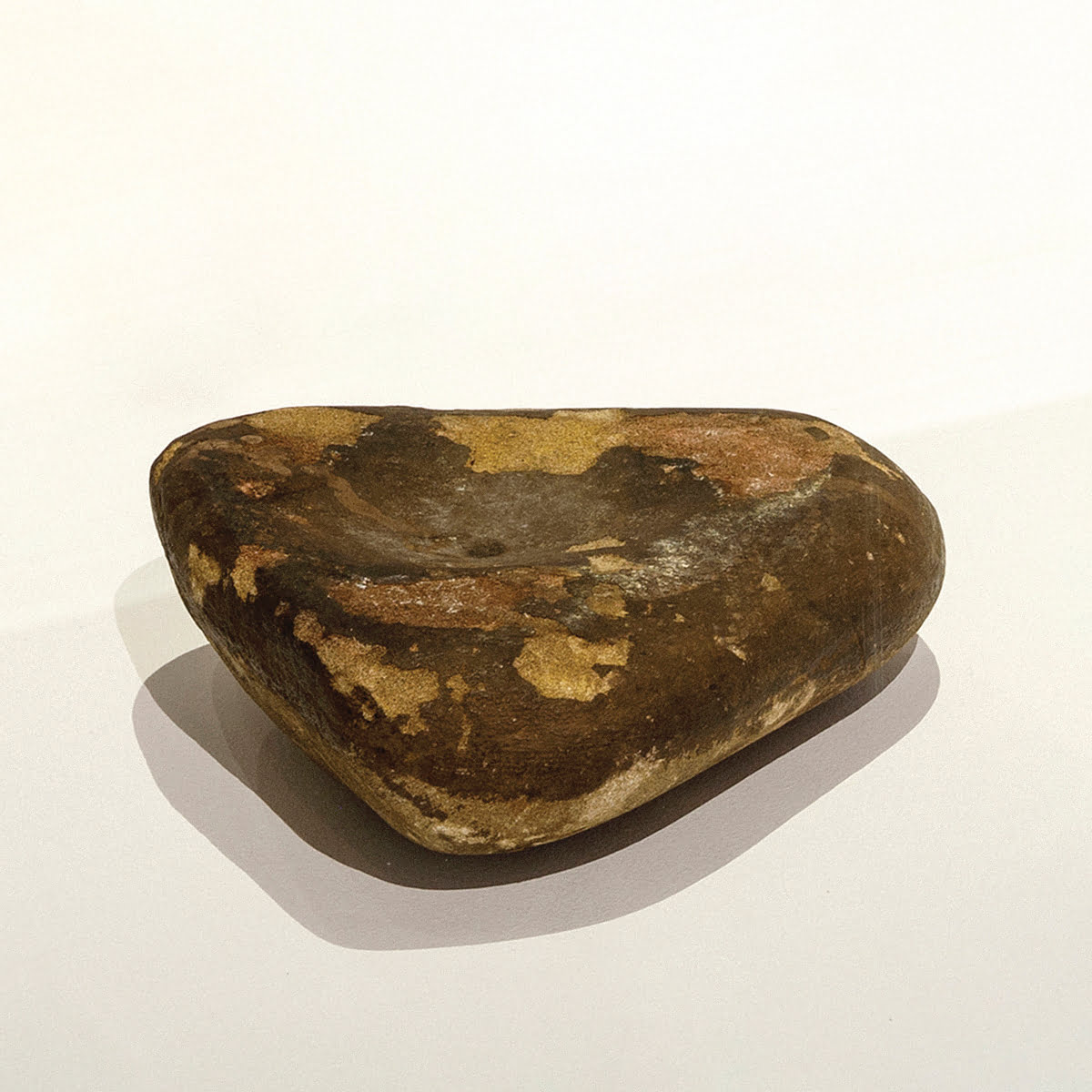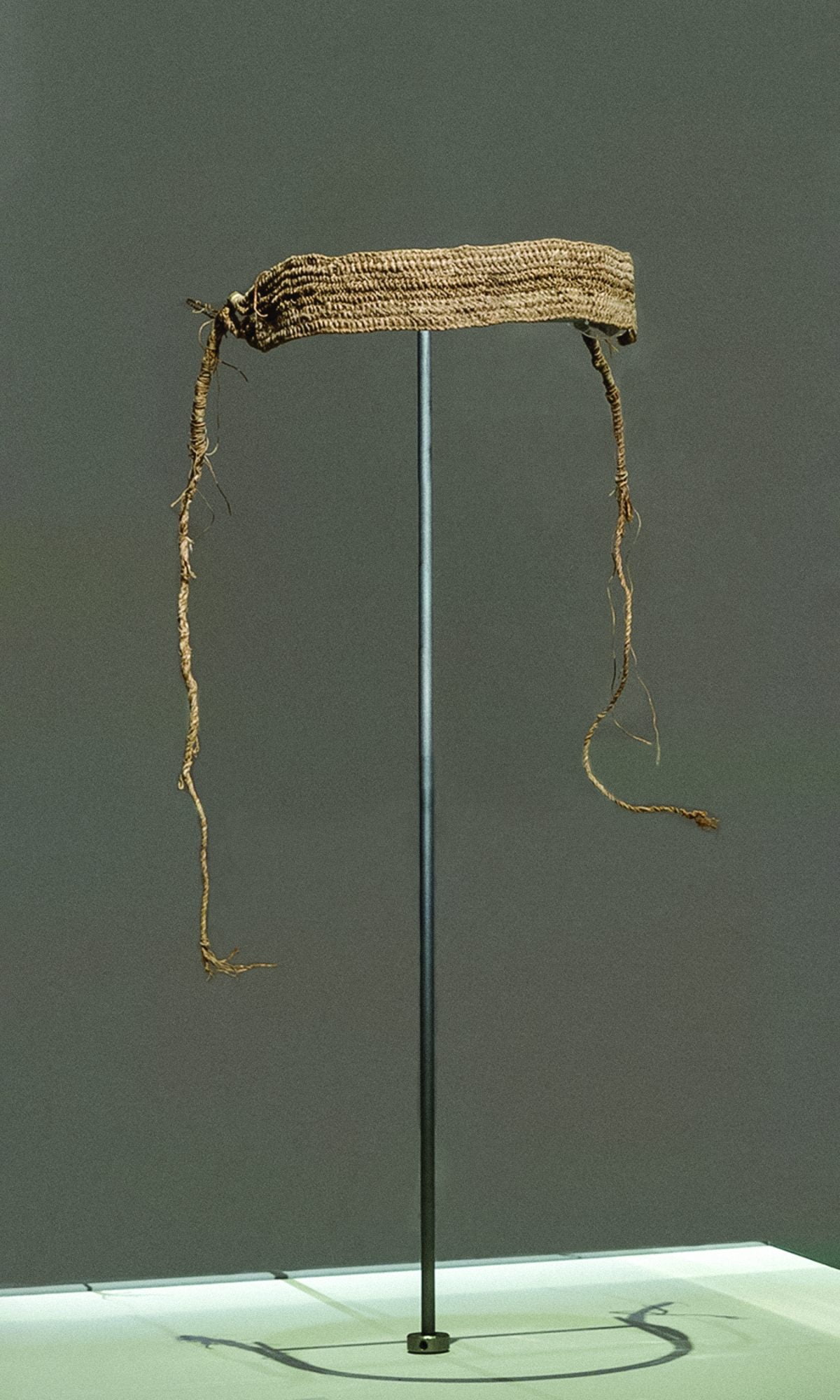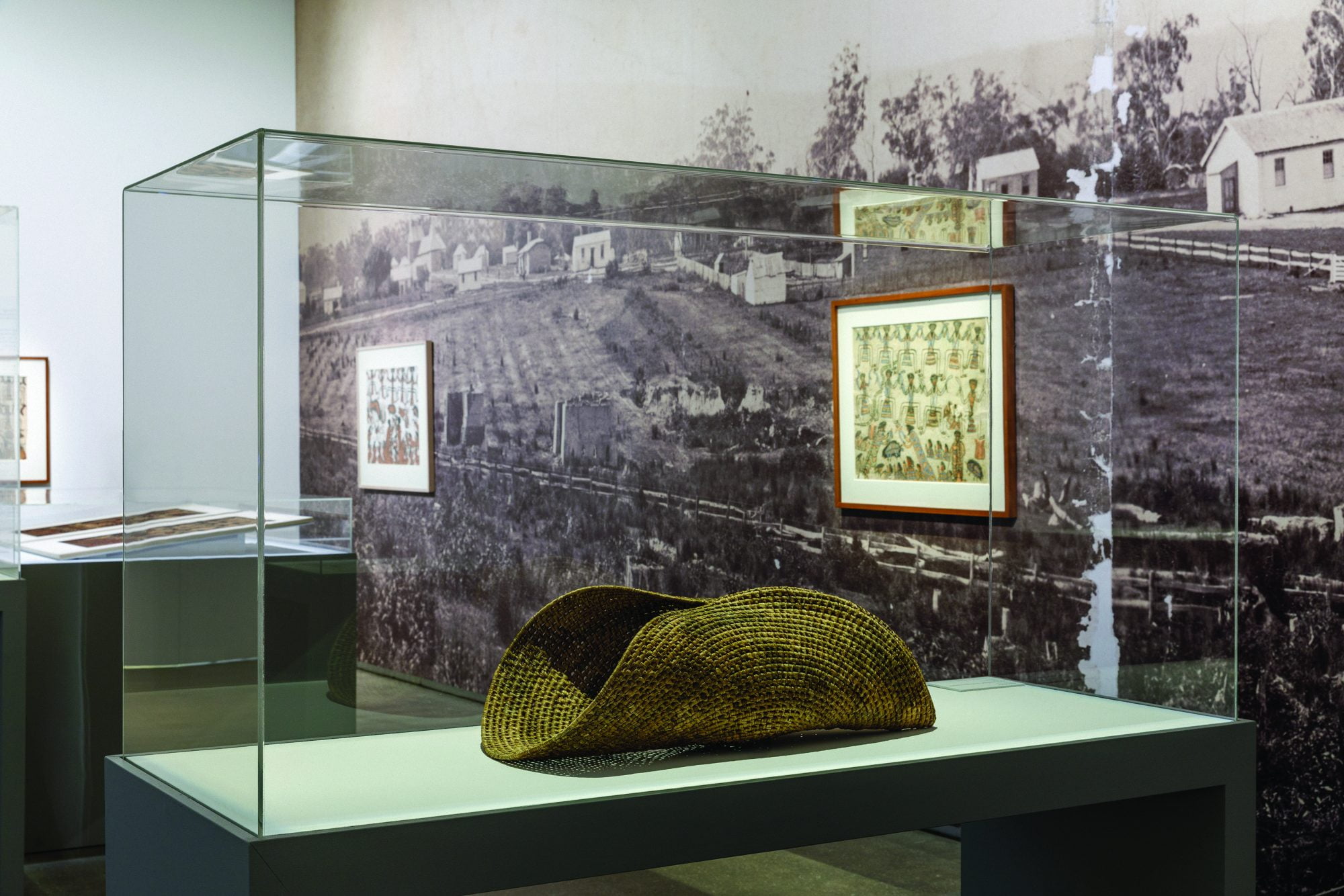 The head ornament, emu feather skirt and river reed necklace exhibited in WILAM BIIK are beautiful examples of the dress and body adornment our people would wear. The headband was collected by Robert Brough Smyth a Melbourne-based civil servant, mining engineeer and influential member of the Board for the Protection of the Aborigines from 1860 to 1878. This adornment is detailed in his study published in 1878 which compiles the observations of his and other European settlers who lived or worked closely with the Aboriginal peoples of Victoria in the mid- to late nineteenth century:
It is made of the fibrous root of the wild clematis (Mo-u-ee). It is exceedingly strong. The length of the band is twelve inches, and the breadth one inch and a quarter. Dr. Gummow says that these bands are usually made by the women. Wing feathers of the cockatoo are stuck in the band, one on each side of the head. The feathers are called Wyrr-tin-nay. This band is worn by males only.6
From these early colonial accounts we get a small glimpse, through their non-Indigenous interpretation, of the cultural practices that were still in use at the early point of colonisation. It is important to note that this knowledge has always been with community and continues today. An example of this is the Tanderrum ceremony of the Kulin nation, a meeting of the five clans, to share dance, revive cultural making and honour the Ancestors. Robert Brough Smyth further documented ceremony of the Yarra people:
The full dress of an Aboriginal man, when prepared for the dance in the corrobboree, was as follows: — Around the head and crossing the forehead a piece of the skin of the ringtail opossum was worn, the ornament being called by them Jerr-nging; a feather of the tail of the lyre-bird was inserted between the band and the forehead (named Kan-kano), and around the neck and the biceps of each arm were worn ornaments made of reeds, like necklaces (Tarr-goorrn). Suspended from the loins by a cord, and hanging in front, was a strip of opossum skin (Barran-jeep). Each ankle was decorated with small boughs (Jerrang), and in the hands were held two sticks (Nanalk) for beating time. The body was painted with white clay. The double line of horizontal stripes on the chest was named Bikamnop, and the straight lines from the cord around the loins to the ankles were called Beek-jerrang.
The ornaments worn by a female of the Yarra tribe were few and simple. In the septum of the nose was inserted a piece of the bone of the leg of a kangaroo, called Ellejerr; around the neck was worn a very long reed-necklace (Tarr-goorrn), and around the loins was fastened the usual apron made of emu feathers and sinews, called Jerr-barr-ning (Til-bur-nin) … The reed-necklace commonly worn by the Australian females (and not seldom by the males) is named Kor-boort or Tarr-goorrn by the (people) of the Yarra. The reed is called Djarrk. Pieces of reed — in length from a half to three-quarters of an inch — are strung on twine made either of some fibre or the hair of the opossum; and, when extended, the necklace is thirty feet or more in length.7
Cultural material was entwined in ceremony and Country. The spear, shield and woomera (spear thrower) were made by men and used in fighting, dancing, hunting and sport. Shields were used in both combat and defence and dance and ceremony. Their distinctive linear markings often packed with white clay and ochre, are the design of the maker, perhaps maps of Country, and were also used to dazzle others while dancing.
Weaving practices of the southeast are another important aspect of culture. Baskets, eel traps, scoops and mats were woven out of various grasses, reeds and pine needles. This skill was mastered by the women of the clans and has carried through to today. The sister basket on display in WILAM BIIK, named because of its matching sides woven separately then stitched together, is one of very few early baskets that can be attributed to its maker, Granny Jemima Burns Wandin Dunolly. Her exquisite work shows the superb coiling technique and this practice continues through her Wurundjeri descendants today. The fish scoop by Taungurung artist Aunty Joyce Moate is another strong example of Victorian weaving connected to water Country. Digging sticks such as the one on display, are also closely linked to the matriarchs. They were important implements which were not only used for gathering food and tilling soil for farming root vegetables but were also used in dance and for fighting.
The works by Beruke, or William Barak, and Koorook-koonong (also recorded as Gurruk-coonim), who was also known as 'Timothy of Coranderrk' and Timothy Korkanoon, share with us a story of Kulin Country and ceremony. The drawing by Koorook-koonong dates between 1863, the year Coranderrk Aboriginal Station was established, and 1875, pre-dating the works of his contemporaries Barak and Tommy McRae. The illustration depicts seven distinct scenes including the hunting of different animals, in which men carrying netted or woven bags and armed with barbed spears, parrying shields and clubs, chase kangaroos and emus. We also see scenes with women and children and a gathering of what looks like an exchange of some kind.
At the top of the page and viewed from left to right, there appears to be a lunar calendar, showing a waxing moon covered in cloud to a full moon with a clear starry night sky. Was Koorook-koonong illustrating the seasons of his Country and the activities that went along with this time? William Barak's work, made a number of years later, also illustrated the traditional ceremonial practices of his people. The boomerang on display in WILAM BIIK is a prime example of Barak's craftmanship and the woomera attributed to Barak depicts a scene reminiscent of his paintings. These are artworks of transition and change as much as they are permanent records of ceremonies of the Ancestors.
The saying often goes when referring to historical material, 'if only they could talk'. I believe these objects do speak to us, we just have to listen deeply. These Ancestral belongings take us to a time that is not so far in the distant past. They sing with the songs of Country and place, of the people who made them, and the many hands that have held them. They also sing to our future and they give us strength in who we are as First Peoples of Victoria. They are the land, they are part of our spirit, they are part of us.
Kimberley Moulton is a Yorta Yorta woman, curator and writer and Senior Curator South Eastern Aboriginal Collections for Museums Victoria.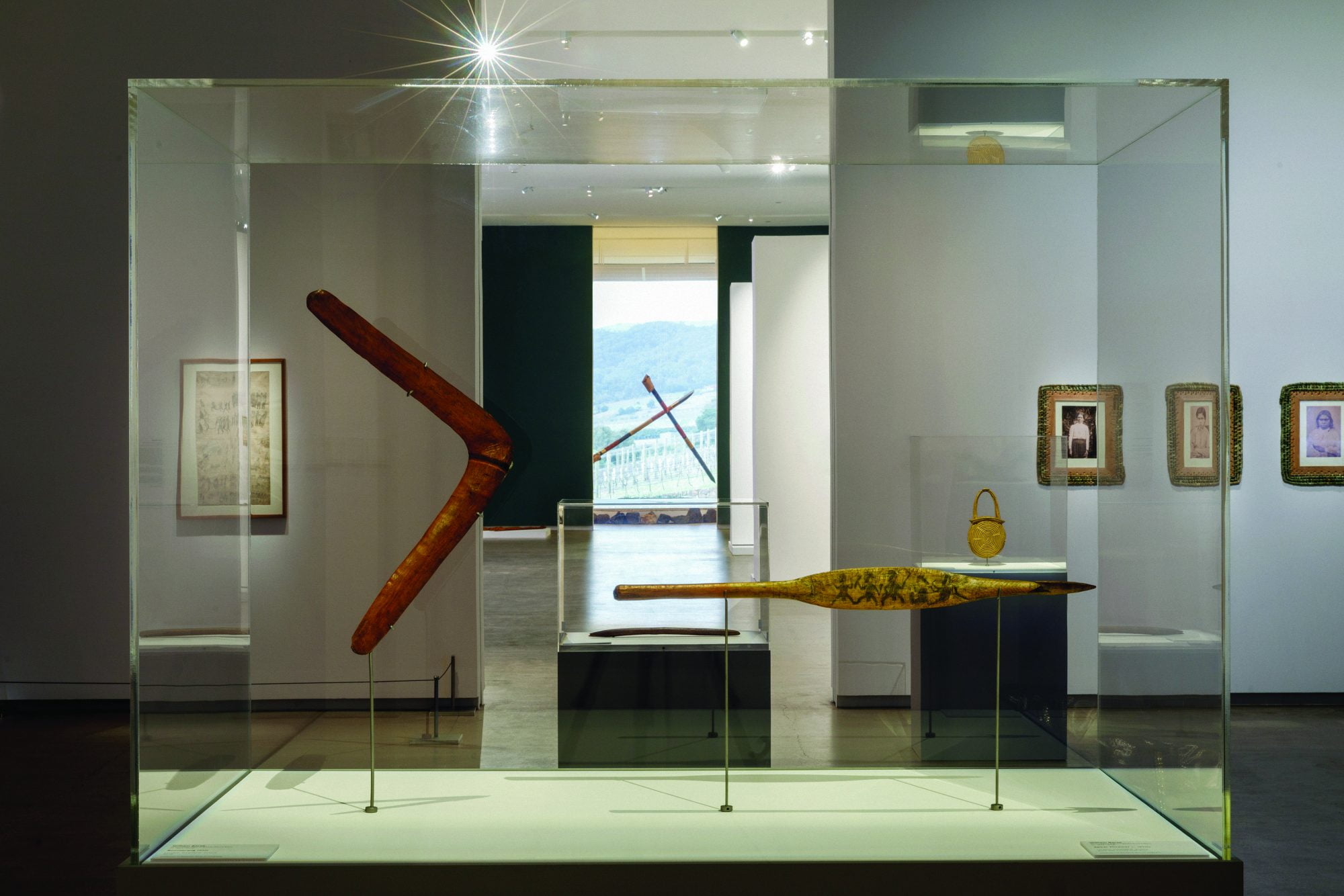 1. Aunty Iris Lovett-Gardiner, 'The Land', excerpt from Lady of The Lake, directed by Richard Frankland, URL: https://cv.vic.gov.au/stories/ aboriginal-culture/land-and-spirit/the-land/, accessed on 1 July 2021.
2. The term Blak was first coined by Erub/Mer (Torres Strait) and
K'ua K'ua (Cape York) woman Destiny Deacon and is now widely used by First Peoples community as a reclaiming of colonialist language to create space of self-definition and self-expression of Indigeneity.
3. Mandy Nicholson in conversation with Danni Zuvela, 'If Something Is Asleep You Can Always Wake It Up', Disclaimer, online journal published by Liquid Architecture, URL: https://disclaimer.org.au/contents/if- something-is-asleep-you-can-always-wake-it-up-mandy-nicholson- in-conversation-with-danni-zuvela, accessed on 1 July 2021. 
4. Interview with Wurundjeri Elder Uncle Bill Nicholson for
James Pattison, 'Seeing the wood for the trees', ABC radio national, URL: https://www.abc.net.au/radionational/programs/offtrack/ seeing-the-wood-for-the-trees/5083936, first broadcast on
16 November 2013, accessed on 3 July 2021.
5. William Blandowski, 'Personal observations made in an excursion towards the central parts of Victoria, including Mount Macedon, McIvor and Black Ranges', Transactions of the Philosophical Society of Victoria, 1855, pp. 50–74.
6. Robert Brough Smyth, The Aborigines of Victoria: with notes relating to the habits of the natives of other parts of Australia and Tasmania / compiled from various sources for the Government of Victoria, Melbourne: Government Printer, 1878, p. 273.
7. Ibid., p. 274.