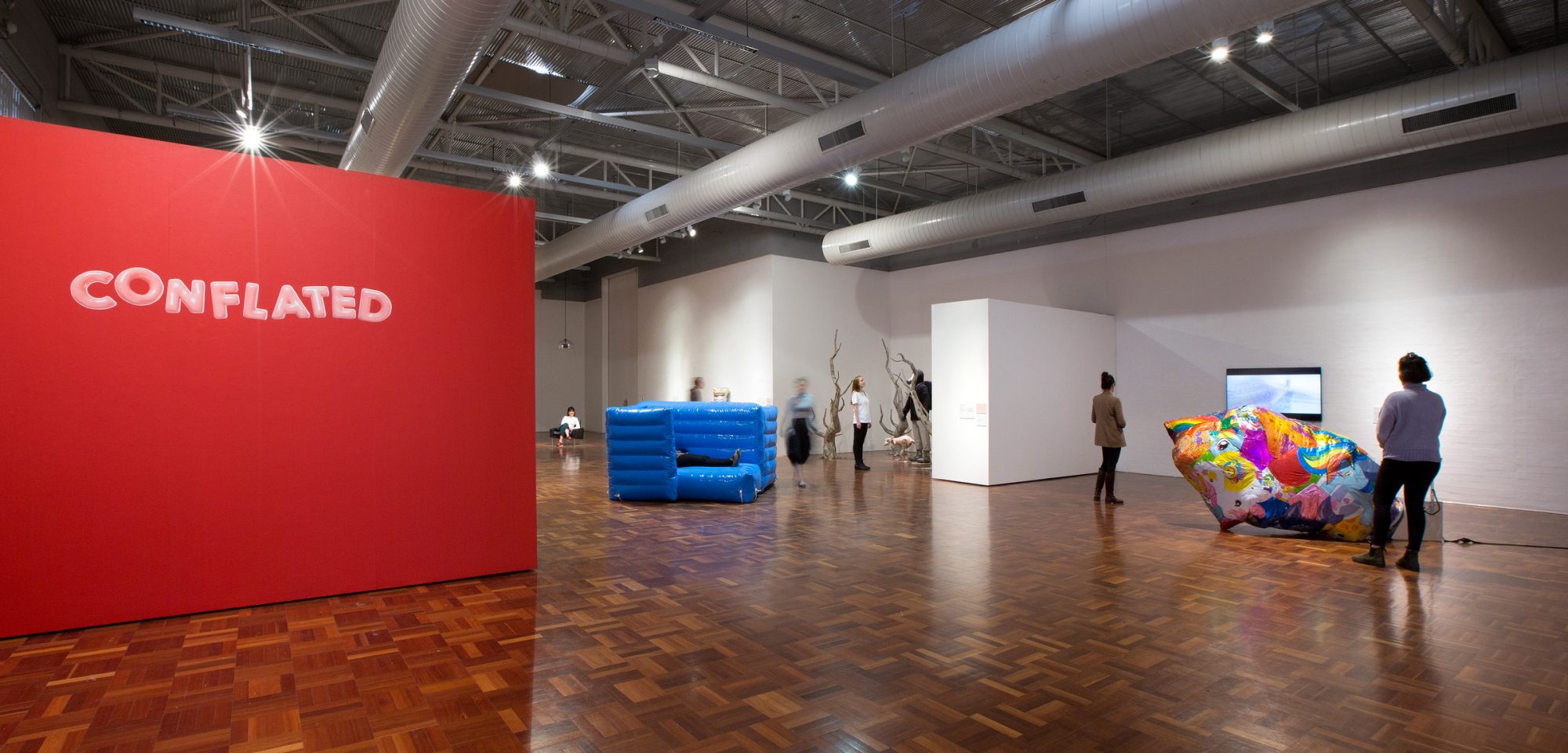 What are the main themes and intentions being explored in Conflated?
ZB: As a curatorial premise, Conflated explores the materiality of inflatables through the artistic practices of contemporary artists. Although inflatables' ability to be blown up and to deflate – as well as their likeness to breathing – evokes the body and the implicit atmospheric factors of living on earth, each artist approached this concept through their own lens. Amrita Hepi, for example, was very interested in monstrosity and femininity at the time of making. Omphalus, created in collaboration with Prue Stent and Honey Long, became an exploration of the inflatable as an extension of the body, disguising, disrupting and abstracting our preconceived notions of what feminine bodies can be. Because the artists brought their own research and interests to each project, the themes they explore span widely – from Australian cultural identity and Indigenous rights in Steven Rhall's work to intimacy in a global pandemic in David Cross' project.
What are the qualities that link all the artworks together?
CW: The overarching themes of inflation, deflation and the qualities and movement of air are present in all of the works. Each artist has responded differently to the brief and there are a multitude of diverse interests represented, including aesthetic, political, personal and social motivations.
How did you come up with the concept for the exhibition?
ZB: Claire and I were brainstorming on a lunch break one day about how to reduce the carbon footprint of NETS Victoria and joked about making a show with inflatables that could be deflated while touring. Because NETS Victoria exhibition tours travel the country by truck, finding a way for artworks to take up less physical space was a compelling idea. Then, the concept just stuck. We were mesmerised by the idea of inflatability and challenging artists to conflate their own interests and practices with an emerging medium that, through new technology, is growing every day.
Were you influenced by or responding to any specific aspects of contemporary life?
ZB: As curators, we think it is important that this show reflects the practices of living Australian artists, starting a conversation about what it is to live and make work in contemporary Australian society. All the artists went in very different directions of course, but I thought about the joyful possibilities of making something blown up and what about contemporary life I was responding to. The context of Covid-19 became a focus for some of the artists in the show as works were commissioned in 2020, and it certainly became the focus of my (Zoë Bastin's) project Enough, which looks to the inflatable to express psychological distress in a physical form.
What kind of materials have the artists chosen to use in this project to express their ideas?
ZB: Artists have worked with an enticing array of materials to express the inflatability of their works – some through sculpture and the performative potential of attaching works to the body and others with video. Eugenia Lim, for instance, engaged social choreography to make her video work of the Mayor of Macedon Ranges Shire Council and a Kyneton Transfer Station worker. James Nguyen, on the other hand, created a recorded sound work that explores the movement of air in the body as a way of looking at the Black Lives Matter movement in the United States and how it relates to his experience as a Vietnamese Australian.
What is it about inflatables and soft sculptures that makes them so enticing?
CW: We were initially drawn to what we saw as inflatables' inherent qualities of optimism. They have a life-affirming quality; we were thinking about their connection to the body, the lungs, the joy of balloons. It was exciting to us that many artists challenged our preconceptions with their concepts around deflation, pollution, the abject, distortion, deformity, viral infection, rubbish, late-capitalism and colonisation. Through their works we came to realise the incredible versatility of the medium and its ability to touch on multiple issues reflecting everyday life and everyday anxieties.
Did you intentionally bring a sense of playfulness via the inflatables to encourage audiences to engage with more challenging contemporary ideas related to our bodies, environments and cultures?
CW: Playfulness is not present in all the works. Even when an artwork may have a playful appearance, it is often functioning as a guise or methodology for exploring deep-seated issues and concerns. Inflation is something everyone can connect to – because of this, it has been a compelling conduit to explore darker areas of human society in a way that is perhaps more approachable or inviting. The accessible nature of inflatables and notions of inflation is something the artists have capitalised on to their advantage.
Are any works designed to respond to environmental concerns or climate change?
ZB: Christopher Langton's bespoke sculptural piece Breathe In Breathe Out is a response to the shifting conditions of Covid-19 lockdowns globally, and how they have provoked us to imagine alternate futures on planet earth. Langton challenges us to think about existence and accept that human development is creating more and more risks to our survival. The piece responds to the uncertainty of future life on earth, and explores how environmental degradation has caused lasting damage to social, political and economic landscapes.
Have there been any challenges in presenting inflatable / soft sculpture artworks in the galleries, such as balancing conservation of the works with audience participation?
ZB: Absolutely. Both the participatory nature of inflatable sculptures and the context of the pandemic have impacted our ability to share works with audiences. Sound has also presented unique challenges in curating this exhibition. Inflatables rely on an accumulation of air to be held within an object. For some works this is a matter of pumping them up during installation and leaving them fully inflated for the duration of the show. However, some works require constant flowing air to maintain their shape. This has meant using air blowers, which are remarkably loud as they gather and push air at velocity to create pressure that holds forms afloat. Finding solutions to balance this sound with other works that involve sound has certainly been challenging but I think we've come to a suitable resolution.
Can you discuss the kind of atmosphere audiences will encounter in the galleries when they visit Conflated? How has this been achieved through the exhibition design and installation of the artworks in the space?
CW: Audiences will quickly sense a dynamic interplay of materiality and air. They will be challenged by some of the works and heartened by others. At first glance, there will be an alluring kinetic and dynamic atmosphere, but this will be subverted through closer interrogation of the works. The ambient sound of Andy Butler's work will permeate the space, which is quite simply the sound of balloons being manipulated, twisted and knotted into the shape of poodles or dachshunds. The sound of blowers pumping air into Zoë Bastin's and Bronwyn Hack's sculptural works will also be present, as will the gentle movement of Eugenia Lim's gold Mylar costumes. Visitors will be able to immerse themselves in the sound dome of James Nguyen's meditative work, contemplate Christopher Langton's confronting tableaux, Steven Rhall's discombobulating collage and Amrita Hepi with Honey Long and Prue Stent's striking video work, before stretching out into David Cross' inflatable installation and connecting with others through its membrane, designed for Covid-safe touching.