A new billboard in Horsham provides a moment of rest between a jump – or is it a fall? 
09.05.22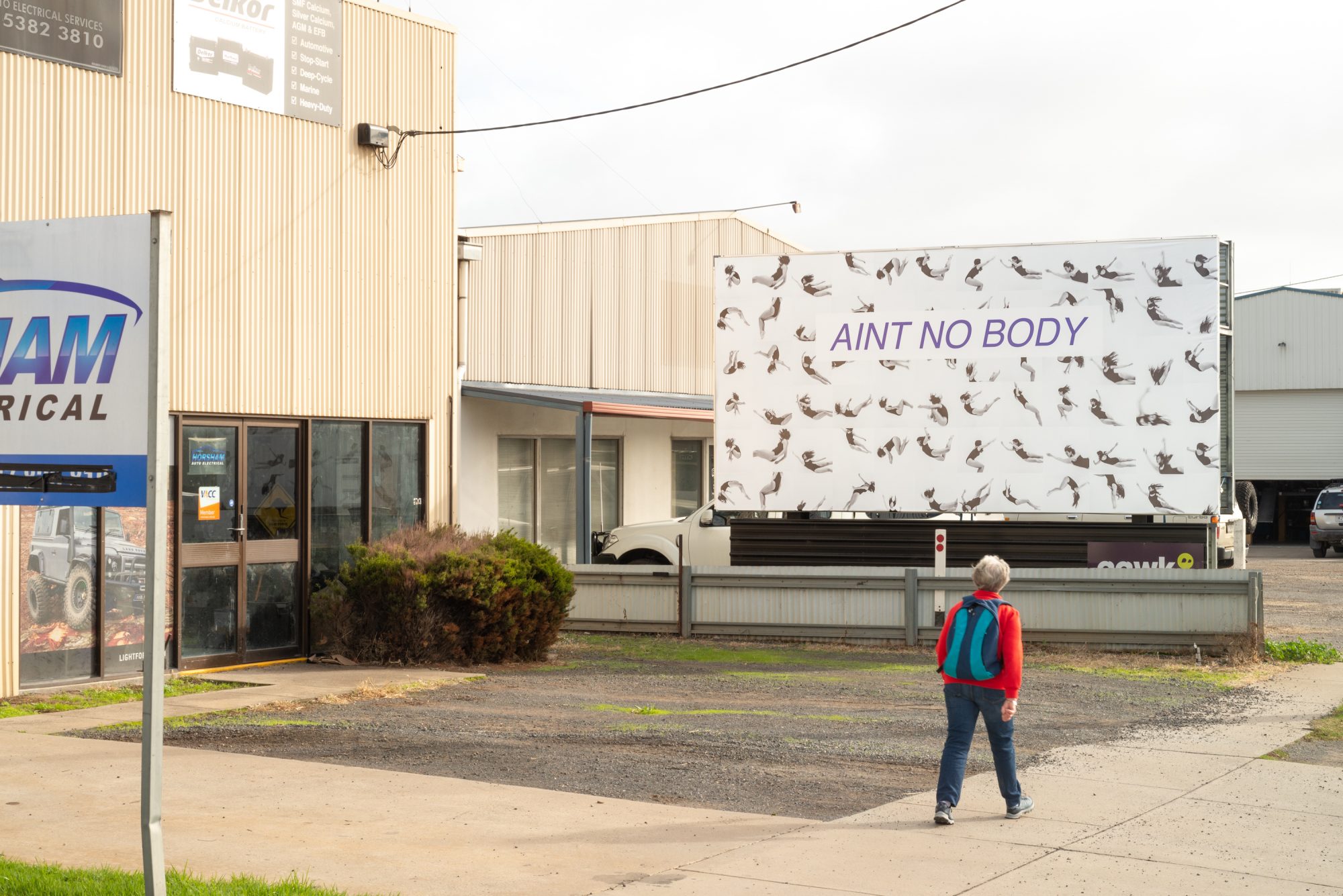 A new billboard featuring the work of First Nations artist Amrita Hepi is being installed at 66 McPherson St, Horsham, on display from 9 May to 31 July 2022.
First Nations artist Amrita Hepi, in partnership with Horsham Regional Art Gallery, presents a dynamic roadside encounter titled Aint no body. Featuring tiled images of her body in motion, the work responds to the "commercial idealisation of the black body" by appropriating the aesthetics of a typical sports or dance advertisement. The promises that such advertisements sell – promises of perfectionism and success as liberation – are, as Hepi puts it, ultimately a myth.
Aint no body considers the archetypes that exist in relation to black bodies. In particular, the work looks to those spaces where the body labours – in dance, in competitive sport, on the screen – to question the constant motion in expectation of excellence. The discipline and control usually demanded of the black body is challenged in this work, with Hepi 's body propelled by an unknown force – is she jumping or falling? The multiform images narrow in on individual frames of movement so that what the audience sees are the moments in-between, when the body is at the whim of air and gravity. With this, Hepi suggests that rest, especially for the black body, is never assured.
This regional billboard also takes into consideration its roadside location, the constant flow of cars and trucks echoed by the multitudes of Hepi.
Of her work, the artist explains: "Indigenous people of regard that I was exposed to were Cathy Freeman, Gavin Wanganeen and Bangarra Dance Theatre, as well as anon-Indigenous people in mass media that needed to be helped in some way or were being moved along – their body in danger/endangered. Between these poles of excellence and damnation, my observation was that we were always "in motion" or migration, and unless the Blak body was seen to be good at some type of physical labour, to excel in it, it had to be moved along/away. Whether on TV, within the media or even in photography, Indigenous people were always in motion – they could never be at rest.  
Within the repetitive motion of Aint no body I was trying to capture or broadcast a potential moment of rest between a jump – or is it a fall?" 
Curator Jenna Rain Warwick says: "It's such a pleasure to work with Amrita Hepi to present her art on a roadside in the public realm."
Aint no body is a Horsham Regional Art Gallery exhibition presented in partnership with NETS Victoria and curated by Jenna Rain Warwick. This project has been assisted by the Victorian Government through Creative Victoria.