Provoking questions: Artist Steven Rhall's Billboard 
14.03.22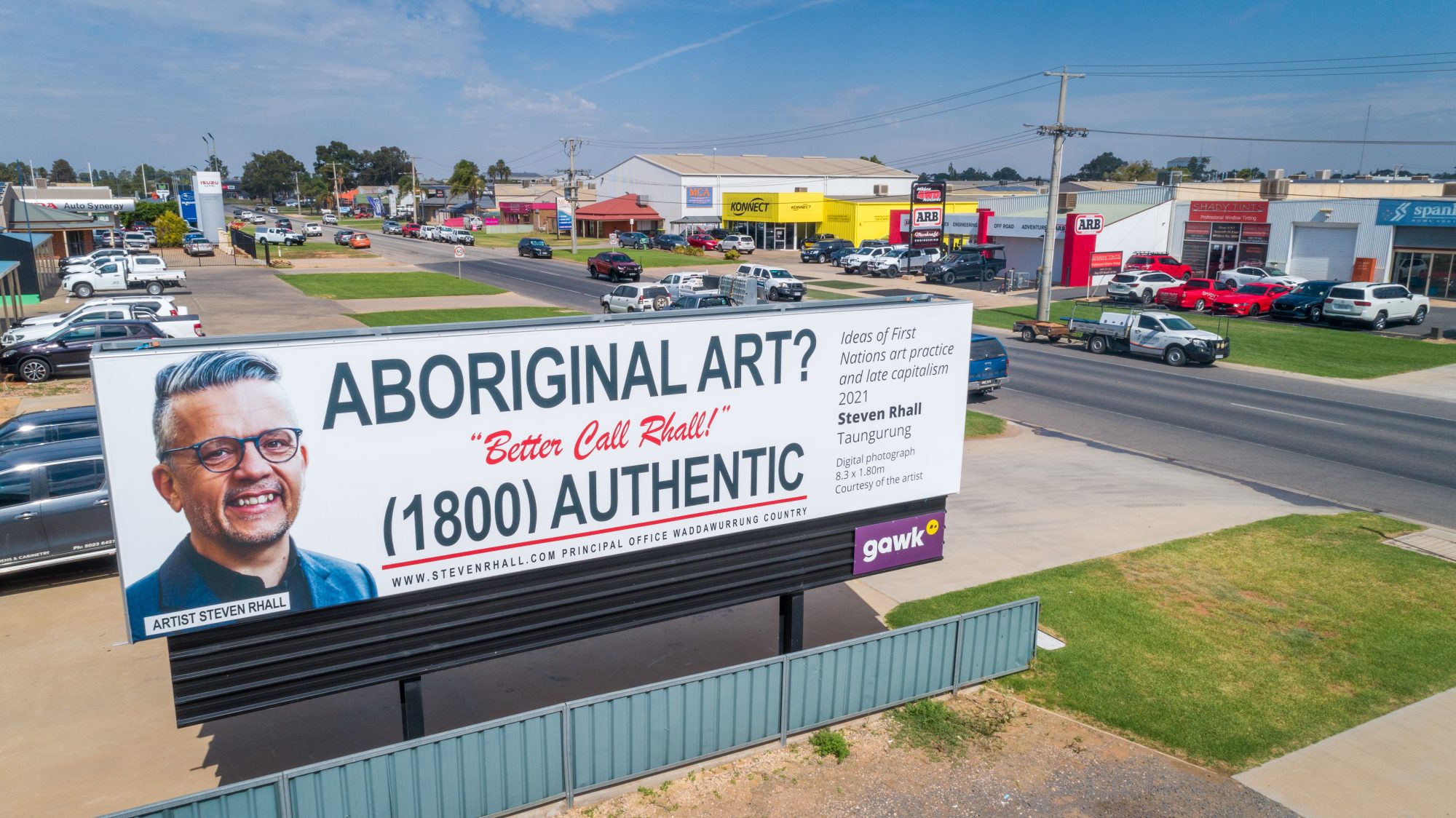 Mildura Arts Centre is pleased to support First Nations artist Steven Rhall's public artwork at 52 Seventh Street, Mildura. His billboard Ideas of First Nations art practice and late capitalism is on display from 19 March until 5 June 2022.
Featured artist: Steven Rhall
Curated by Jenna Rain Warwick, Ideas of First Nations art practice and late capitalism, a public roadside artwork by Steven Rhall draws on both its location and the socio-political context of roadside adverts. Indicative of his practice at large, Rhall's reinterpretation of the roadside advertisement aesthetic questions the commodification of art and the way it can both appropriate and legitimise First Nations practice.
A Taungurung artist and the face of his own billboard, Rhall places himself at the centre of these questions. In character as a savvy salesperson with a questionable smile and suit, Rhall invites the audience to reckon with the context and meaning of contemporary art. Simultaneously vague and self-assured, the billboard asks a simple question: 'Aboriginal Art?' In a nod to sleazy sales tropes, the billboard boldly answers its own question, declaring that Aboriginal art is just a phone call away at '(1800) Authentic'. The economics and politics surrounding First Nations art, and the way in which this shapes the art and its audience, is at the crux of Rhall's work. Whether or not audiences are familiar with Rhall's subversive practice, Ideas of First Nation art practice and late capitalism will leave passers-by with questions, igniting introspection long after their car ride is finished.
Steven Rhall a proud Taungurung man says "To begin with, this artwork takes the location and context of its display as a billboard as a primary source of inspiration. In my art practice, I often play with the contributing factors thought to be 'presenting' the work of art, often taking them on as part of the artwork. The aesthetic of my artwork takes on what I see as the sometime bold and declarative highway billboard aesthetic, quickly assessing itself before the audience has driven by. This brings forth the question 'Is this billboard Aboriginal Art, and further what is or could be Aboriginal Art at this point in history?' I feel my concept boldly declares my expression as both an artist and Taungurung person. I hope it inspires its audience the creative possibilities of artistic and cultural expression within First Nations art practice and potentially themselves."
The curator Jenna Rain Warwick says "I love Steven Rhall's new billboard, it really involves passers-by, inviting them to decide what is real. His use of humour and irony to explore complex themes is poignant as the late Bell Hooks writes 'we cannot have a meaningful revolution without humour'. "
This is the second of three regional Victorian public art billboards, a project by NETS Victoria that partners First Nations artists with regional galleries to commission roadside billboards.