Artist Lisa Waup's Billboard: a sign to question 
14.02.22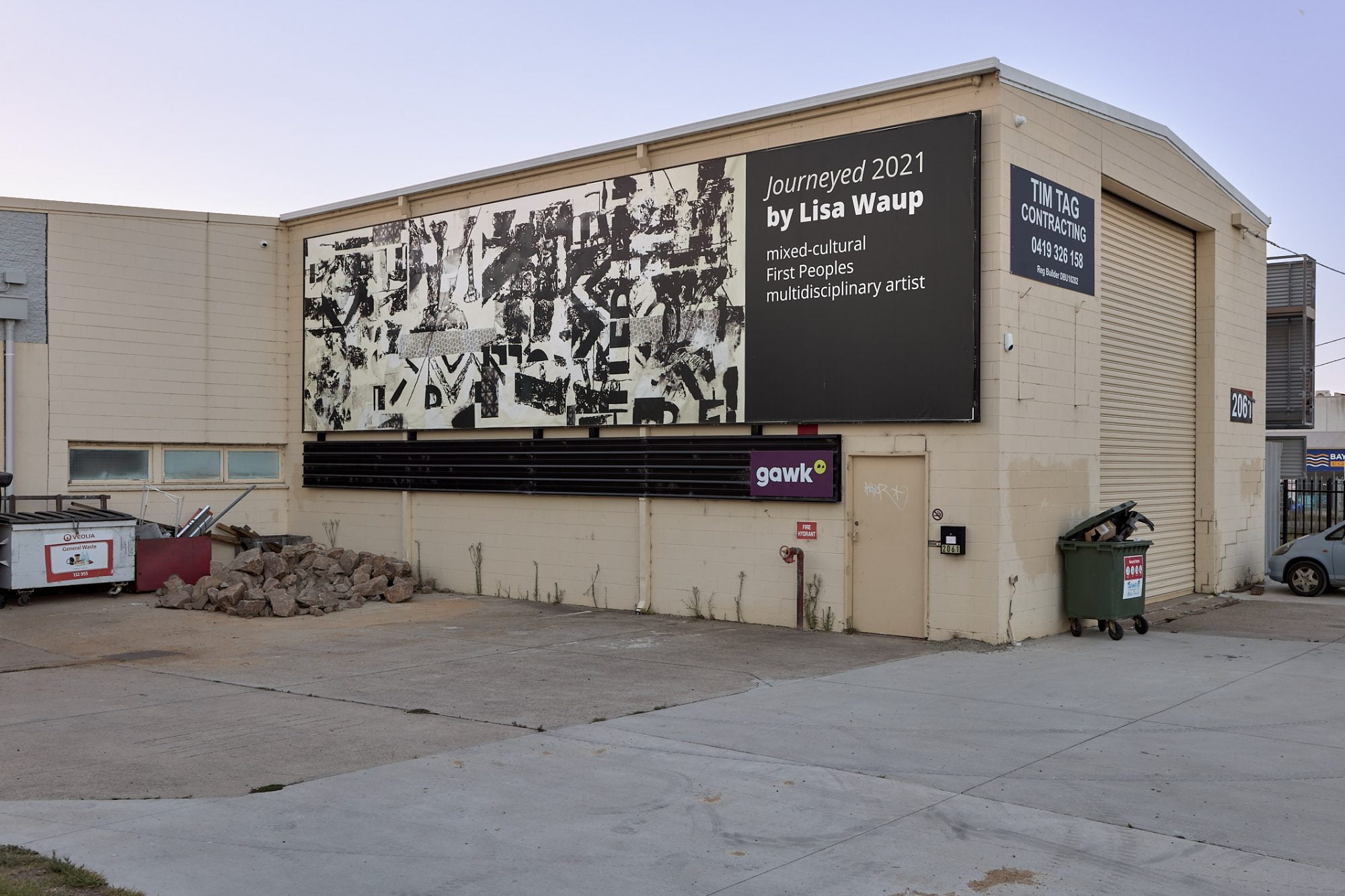 Mornington Peninsula Regional Gallery is pleased to support mixed-cultural First Peoples multidisciplinary artist Lisa Waup. Her billboard Journeyed is on display at 2061 Frankston-Flinders Road Hastings VIC 3915 until 8 May 2022. 
Curated by Jenna Rain Warwick, Journeyed, a public roadside artwork by Lisa Waup, considers the significance of the ubiquitous roadside sign. As these signs direct movement on the unceded sovereign lands of First Peoples, whose authority do they rely upon?
Journeyed is the first of three regional Victorian public art billboards, a project that partners First Nations artists with regional galleries to commission roadside billboards.
Delivered in partnership with Mornington Peninsula Regional Gallery, Journeyed "is part of an ongoing series titled Our Way, work that spans various media (printmaking, sculpture, photography and jewellery) to explore the power and peril of the directional sign and its ability to control, repress and disorientate First Peoples on their own land," writes Lisa. By reappropriating and reassembling roadside signs, Lisa removes their directional value, leaving behind only their symbolic meaning. By stripping these directives of their context and authority what remains is their socio-historical legacies, prompting us, as viewers, to question the way in which land is navigated and by whose decry.
Lisa Waup is a mixed-cultural First Peoples woman, multidisciplinary artist and curator born in Naarm (Melbourne). Her studio-based practice involves the creation of objects which, through symbology and materials, connect her to family, Country, history and story. Lisa works across weaving, printmaking, photography, sculpture, textiles and installation, eloquently illustrating her life's journey through discovery and connection. Her practice highlights the importance of tracing lost history, ancestral relationships, Country, motherhood and time, weaving stories of her past, present and future into contemporary forms.
Reflecting on the relationship between the work's content and context, curator Jenna Rain Warwick notes: "Many of the roads we travel on today are built on old walking tracks, something I think about a lot when I'm traveling. A roadside might not be the first place we look for contemporary art, and at first Lisa's work may seem understated. But upon further viewing the pastiche beckons to be decoded, a deciphering that talks to the history of land ownership and the insidious control of colonial authority."
Journeyed is a Mornington Peninsula Regional Gallery exhibition, delivered in partnership with NETS Victoria and curated by Jenna Rain Warwick. This project has been supported by the Victorian Government through Creative Victoria.