Curatorial One-on-One
02.11.20
Date: Thursday 10 December
Time: 4:00-5:00 pm
Session 5, Curatorial One-on-One, is a live curatorial session where you will be paired up with another curator to discuss topics that have been explored in this year's Curatorial Intensive. It will provide a rare opportunity to connect beyond your geographical area to another curator and discuss some of the burning issues affecting our post-pandemic environment. Each pairing will last ten minutes and you will be randomly paired with three other curators in total, hosted by Esther Anatolitis, arts consultant, advocate and writer. In a bid to bring like-minded people together to reflect and learn from previous sessions, this one-on-one session is a chance to pick each other brains, discuss the issues facing the arts and how we can all learn from each other's experiences.
Chair:
Esther Anatolitis | Arts Consultant, Advocate and Writer
Register Here
Registrations close at 5pm on Tuesday 8 December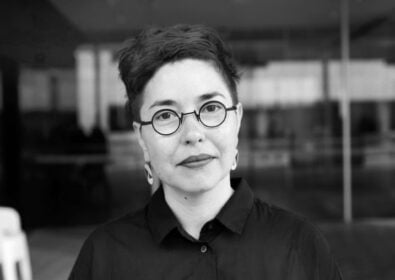 Esther Anatolitis
She/her
Arts advocate Esther Anatolitis is Deputy Chair of Contemporary Arts Precincts and Honorary Associate Professor at RMIT School of Art. Her academic background is in European philosophy, and she also holds the postgraduate Zertifikat BauhausDessau for her work on the international architectural project Serve City: Interactive Urbanism for which she was awarded a DAAD Künstlerprogramm residency. Esther has led a diverse range of arts and media organisations across all artforms, and her consultancy work has contributed strategic and policy insight across the public and private sector. Together with Prof Hélène Frichot, Esther curated Architecture+Philosophy for ten years, and is a former curator of Digital Publics and Independent Convergence. In 2019 Esther taught into the curatorial intensive at KTH Architecture, Stockholm, with a focus on Taking Your Curatorial Position.
Image Credit:
Esther Anatolitis | Arts Consultant, Advocate and Writer
Photograph: Alex Frayne
This event is part of The 2020 Curatorial Intensive, presented by NETS Victoria in collaboration with the PGAV and supported by the Victorian Government through Creative Victoria.