Congratulations to the recipients of the 2020 Exhibition Development Fund (EDF)
08.09.20
NETS Victoria is excited to announce the recipients of the 2020 Exhibition Development Fund (EDF).
Blak Dot Gallery will present 'EXCHANGE' by curator and artist Kimba Thompson, exploring the exchange of ideas between First Nations Peoples, and supporting the validity of knowledge and permissions to access old/living knowledge.
Bus Projects will present 'Notions of Care' curated by Nina Mulhall and Kathryne Honey. Featuring artists Polly Stanton, Kate Tucker and Katie West, Notions of Care explores the ways in which art and nurture are interlinked, asking us to take time, to pause, to contemplate.
La Trobe Art Institute will present 'One foot on the ground, one foot in the water' later this year, a group exhibition that explores death and dying as states of transition, presenting art-making as a means of facing mortality. At a time when the universal fact of our mortality has never been more potent, the exhibition presents artwork by leading contemporary artists who challenge us to reckon with death as an inherent part of life. The exhibition will be accompanied by a fully illustrated e-catalogue featuring six newly commissioned texts and a photo essay by Sara Morawetz. Exhibiting artists: Catherine Bell, Timothy Cook, French & Mottershead, Mabel Juli, Richard Lewer, Michael Needham, Nell, Patrick Freddy Puruntatameri and Nawurapu Wunungmurra.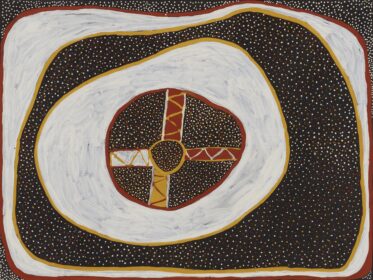 Image: Timothy Cook. Kulama, 2014. earth pigments on linen, 184 x 224cm. Courtesy of the artist, Jilamara Arts and Crafts Association and Vivien Anderson Gallery, Melbourne. To be presented in One foot on the ground, one foot in the water, a La Trobe Art Institute exhibition, curated by Travis Curtin.