Launch of 'Play On: The Art of Sport'
21.09.17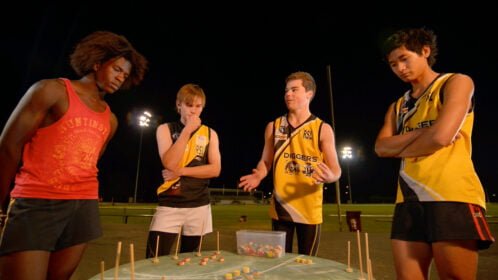 Fans of sport will be excited by the news that an exhibition that brings together 10 years of contemporary art commissions on the subject of sport and sporting culture will open in regional NSW in December.
Play On: The Art of Sport includes painting, sculpture, video, drawing and mixed-media installation by prominent Australia artists from diverse cultural backgrounds from the Basil Sellers Art Prize. Individual works in the exhibition engage with gymnastics, running, community sport, ground-keeping, AFL, race relations and the representation of women in sport amongst other ideas. The prize has inspired innovative and complex explorations of sport from a rollcall of Australia's most accomplished artists.
The acquisitive biannual Basil Sellers Art Prize ran from 2008 – 2016, an initiative of the Ian Potter Museum of Art. It was one of Australia's richest and most prestigious art awards. Selected artists were commissioned to create a work in response to the theme. Winners were awarded a $100,000 prize.
Artists include: Tony Albert, Richard Bell, Lauren Brincat, Jon Campbell, Daniel Crooks, Gabrielle de Vietri, Tarryn Gill and Pilar Mata Dupont, Shaun Gladwell, Richard Lewer, Fiona McMonagle, Kerrie Poliness, and Khaled Sabsabi.
The exhibition will tour nationally 2017-2019.
A NETS Victoria and Ian Potter Museum of Art touring exhibition.