'Slipstitch' concludes its seven venue two-year tour
15.08.17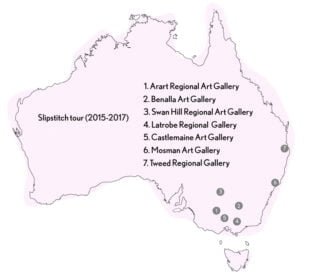 Ararat Regional Art Gallery's long tradition of collecting and exhibiting textile art was established because of its region's historic ties to fine wool production. For gallery director Anthony Camm this textile art focus informed the gallery's decision to develop a touring exhibition exploring the recent uptake of embroidery by a new generation artists.
Anthony Camm: "Ararat Regional Art Gallery is Australia's most dedicated presenter and collector of textile art. It's important that we also share our expertise and collection with other galleries in order to reach new audiences. Embroidery is a growing area of interest to artists and this is what we sought to explore through Slipstitch."
Independent curator and academic Dr Belinda von Mengerson worked with the gallery to curate Slipstitch. The exhibition brings together 32 artworks by 12 Australian artists that share an interest in figuration. They utilise a range of styles and techniques: running, back, satin, straight running, and cross-stitch and express an interest in embellishment, gesture and narrative.
The gallery received initial development funding through NETS Victoria's EDF program. Dr  von Mengerson said, "The choice of works in the show was based on narrative and the rich personal stories behind each work. This really engaged viewers with the work – gallery guides studied the resources closely, asked questions of the curator and artists, conducted independent research in order to inform the viewers and tell a range of stories in relation to the work, some humorous, some contemplative."
Anthony Camm adds: "NETS Victoria secured funding, developed marketing and educational materials and ensured a viable and well supported tour. We couldn't have realized such an ambitious tour without the extraordinary dedication of the NETS Victoria team."
The exhibition resonated with audiences. Some 42,000 visitors saw the exhibition across seven venues. Mosman Art Gallery: "The exhibition exceeded our expectations in terms of visitor numbers and interest from the community. It definitely attracted a new audience for the Gallery of a very active, committed, engaged group of textile lovers and practitioners.  There is clearly a very strong network of interest in textiles.
Slipstitch features recent work from Mae Finlayson, David Green, Lucas Grogan, Alice Kettle, Tim Moore, Silke Raetze, Demelza Sherwood, Matt Siwerski, Jane Theau, Sera Waters, Elyse Watkins and Ilka White.
The tour of this exhibition was made possible by Creative Victoria through the Touring Victoria program and a full colour catalogue publication has been generously supported by the Gordon Darling Foundation.
Podcast link – local radio interview
http://eastsidefm.org/tradition-with-a-twist/
Blog article link