Exhibition Development Fund applications now being accepted
28.07.17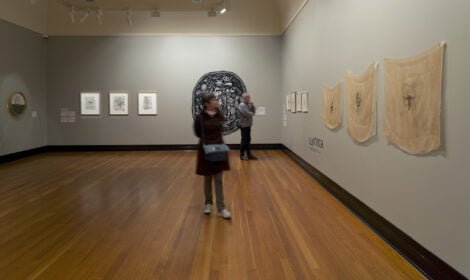 Applications for the 2017 Exhibition Development Fund (EDF) are now open!
The EDF provides funding up to $10,000 to develop new exhibitions of contemporary art, craft or design with the potential to tour them with NETS Victoria.
Independent curators and artists are encouraged to apply through a partner organization and this is a wonderful way for smaller institutions to work with new and upcoming curators.
Funds can be used to assist development areas such as research, engaging an independent curator, artists' commissioning or loan fees, exhibition design, audience development or publications and education kits. EDF grants are not available to support touring costs.
The Exhibition Development Fund is an opportunity to work with new ideas, take risks and be innovative.
Application deadline is Monday 11 September, 2017
For more information visit the EDF Page, or contact us at info@netsvictoria.org
One successful recipient from our EDF 2013 round was Slipstich, an exhibition that was a partnership between Ararat Regional Art Gallery with curator Dr. Belinda von Mengersen. The EDF allowed this exhibition to be developed and then was successfully toured to 7 venues over a 2 year period. The exhibition included works by contemporary artists as well as work from the Ararat Regional Art Gallery Collection to highlight an Australian perspective on the contemporary uptake of embroidery by a new generation of artists.