NETS Victoria appoints new Director
13.06.17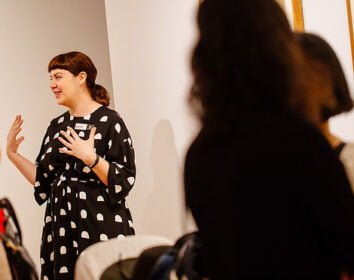 NETS Victoria is thrilled to announce the appointment of Mardi Nowak as Director. Ms Nowak, who trained as an artist, has worked as a curator and gallery manager for more than 16 years in the public gallery and local government sector most recently at the Town Hall Gallery, Hawthorn.
Over the past decade she has developed over 100 exhibitions and programs, working closely with gallery staff, artists and organisations on collection building, artist-in-residence programs and overseeing public art commissions.
Sarah Bond, Chair of NETS Victoria: "The Board was won over by Mardi's significant professional achievement, commitment to the sector and vision. She brings a wealth of management and curatorial experience to the role. We're looking forward to working with Mardi to deliver our current slate of ambitious and stimulating exhibitions and shape the program going forward."
Mardi Nowak: "I'm really looking forward to engaging with metropolitan and regional audiences. In many respects it's a homecoming; I started my arts career at Swan Hill Regional Art Gallery.
"I'm passionate about the contemporary visual arts and crafts and combining traditional and contemporary practices and thinking about ways to bring about meaningful engagement with art."