Michelle Nikou: a e i o u makes its way to Benalla
07.03.17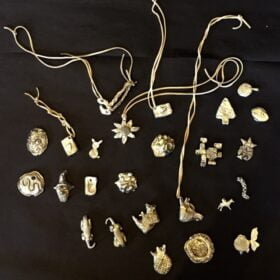 The intriguing and beguiling works of Michelle Nikou have made their way to Benalla. This marks the second in a seven venue journey for the survey exhibition of the Adeliade-based contemporary artist.
Exhibition co-curator, Melissa Keys "We were thrilled with how audiences responded to the exhibition so far. Nikou has such an interesting practice and visitors are connecting to the feeling, humour and materiality of the artworks."
​As part of the exhibition Michelle Nikou ran a two-day art making workshop at Heide Museum of Modern Art in August last year. The public program was well attended and very well received. Participants – adults and children alike – had the opportunity to view the exhibition with the artist, construct a mold, and work with liquid metals to create their own cast art objects. Michelle will run a similar workshop in Benalla.
​Michelle Nikou: a e i o u  spans a 20 year period and includes textiles, sculpture, etching and installation.
The exhibition is a NETS Victoria touring exhibition developed in partnership with Heide Museum of Modern Art.