INTERVIEW: Vikki McInnes, curator EREWHON
07.03.17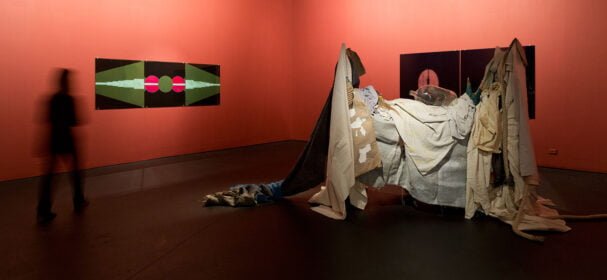 The title of the exhibition refers to a Samuel Butler novel 'Erewhon' from 1782 novel. Can you explain the significance of this reference literary reference to you?
There are so many reasons why EREWHON resonates with me, not least because I originally came to Melbourne from New Zealand, where the satirical Victorian novel is based, and where Butler lived as a young man. There's a terrific melding of the real and the imagined throughout the narrative and also a strong sense of dislocation or displacement, which I respond to personally. The Erewhon of the story is a curious place where normal social expectations are turned inside-out, for example illness is a punishable crime and crime a sickness for which its perpetrators receive medical care. It reads, as much satire does, as a protest – and warning – against blind adherence to dominant attitudes and orthodoxies. Equally, satire is a useful strategy for writers and thinkers to comment on contemporary social issues, and EREWHON'S allusive nature seemed like quite an apt, yet open, framing device for the work in the exhibition which also comments obliquely on our contemporary social/political contexts.
 How did you arrive at this particular selection of artists?
The exhibition evolved from a previous exhibition Neverwhere that travelled to Istanbul in 2015, for which I invited a group of nine prominent contemporary Australian artists whose work I thought would be engaging and relevant to Turkish audiences in the context of the ANZAC centenary. EREWHON comprises six of those same artists, and is something of a reflection on that prior exhibition but also a response to what had been (both locally and globally) a volatile and rather violent 12 months since. EREWHON subsequently took a darker and more foreboding turn than its predecessor.
What are you hoping the public will gain out of an encounter with the exhibition?
I think every curator hopes that audiences will take some time to consider the works themselves and to reflect on what they might reveal about ourselves at this moment time. Many of the works in EREWHON engage historical narratives (whether real or propositional) which not so much embrace history as demand its reappraisal, and I think this is a useful strategy in our colonial, but also neo-liberal, context. Of course, the exhibition is touring quite extensively throughout Victoria, which means that regional audiences will have an opportunity to see work by these terrific contemporary artists; something that perhaps, in Melbourne, we take rather for granted.
Vikki McInnes | Research Development Fellow | Managing Editor, Art + Australia
Faculty of the VCA and MCM | University of Melbourne