Celebrating 30 Years of NETS Victoria
15.12.15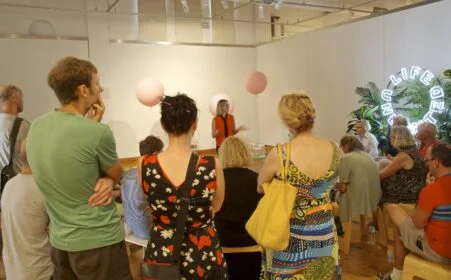 In 1985 NETS Victoria emerged as an initiative of the Australia Council, who saw a gap within the arts sector in facilitating touring exhibitions and supporting curators, artists and public galleries. Thirty years later in 2015 NETS Victoria continues to create opportunities to bring high quality contemporary art, craft and design practice to different regional communities, whilst supporting regional galleries in presenting contemporary art programs.
From the early days of just one staff in an advisory role, NETS Victoria has grown to a team of four professional staff that manage a variety of contemporary art programs. We continue to double our operational income through project grants to ensure the development and delivery of touring programs.
As NETS Victoria looks ahead to exciting programs for 2016, we would like to celebrate and share our various achievements. Our core activities have been the brokering and coordination of touring exhibitions, expert support and guidance to regional gallery staff and facilitation of state and regional cooperation within the arts.
Our Exhibition Development Fund grants have supported the development of new exhibitions for touring. We have actively curated in-house exhibitions and commissioned projects that support arts practitioners.
In 2012, NETS Victoria curatorial initiatives resulted in two exhibitions:
Cut with the kitchen knife, curated by Emily Jones, examined the use of collage in contemporary art by surveying the artistic practices of nine artists at various points in their careers.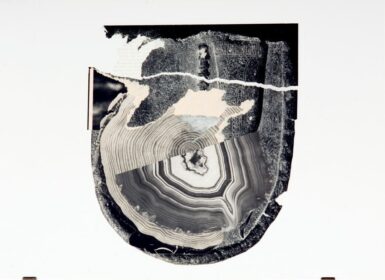 Nicholas Mangan, Flohetrauling 2008, Collage, shelf, 5 panels: 30 x 24 cm, 30 x 21 cm, 24 x 30 cm, 35 x 25 cm, 30 x 40 cm, White gloss shelf: 183 x 5 cm, Courtesy the artist and Sutton Gallery, Melbourne
Made to last: the conservation of art, curated by Sherryn Vardy, explored the use of different materials and techniques by contemporary artists and the conservation challenges they pose.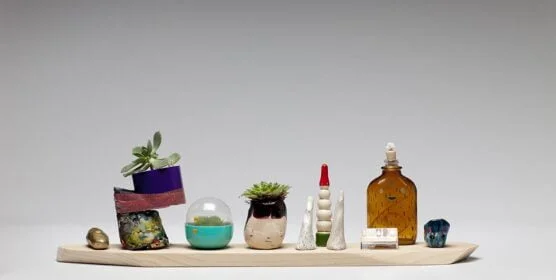 GHOSTPATROL, Objects (detail), 2012, mixed media, Courtesy the artist, Hugo Michell Gallery, Adelaide and Backwoods Gallery, Melbourne
Both these touring exhibitions were highly successful as they were developed in-house specifically to meet the needs of small regional galleries to engage with audiences with strong exhibition content. Through the range of artworks and public programs, these exhibitions increased the capability of regional galleries to present contemporary art.
In 2014, we launched a new commissioning program, The Cinemas Project. Curated by Bridget Crone, The Cinemas Project commissioned five leading contemporary artists to work in a specific location and create artworks that examined the history of cinema, its architectural spaces and relationship to local communities, and the participative nature of cinema. Artists involved were Brook Andrew (Bendigo), Mikala Dwyer (Mildura), Bianca Hester (Warrnambool), Lily Hibberd (Morwell) and Tom Nicholson (Geelong).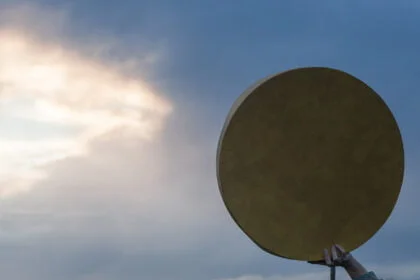 Bianca Hester, sonic objects, solar objects: variously, 2014, Performance in Warrnambool as part of 'The Cinemas Project', photograph courtesy of Sam Nightingale
NETS Victoria is responsive to the changing landscape of the arts sector and the needs of arts professionals.  We provide professional development opportunities via intensive curatorial courses, symposia and seminars, promote research and writing through the publication of exhibition catalogues and provide useful touring resources and information, such as the Travelling Exhibitions Handbook. We also develop education resources for all touring exhibitions.
Since the early nineties, we have toured more than 70 exhibitions to over 370 destinations within Australia. More than 2 million people have attended our touring exhibitions. As with the last thirty years, NETS Victoria will continue to strive for innovation, excellence, agility and sustainability. We hope to have many more successful stories and news to share in the years ahead.
Text by Sophine Chai
Featured image: Synthetica public program at Counihan Gallery, Brunswick 2015